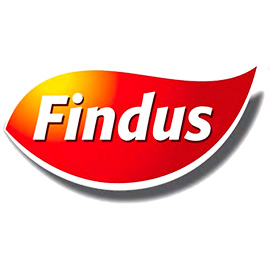 * Conversion factor: 0,400
Company: Findus – Italy
Findus is a brand that produces frozen food aimed at the mass market. Founded in 1941 in Bjuv, Sweden, by Food Industries, it is now part of the American group Nomad Foods. In Italy it has been present since 1964 and it is a market leader in the sector of frozen pre-fried fish and, with the brand 4 Salti in Padella, in that of frozen ready meals. At the Cisterna di Latina plant, 15,000 tons of frozen food are produced each year on 20 different processing lines.
More than 50 years after the start of production in Italy, Findus remains synonymous of quality frozen foods and remains a premium brand in Europe.
The customer was looking for a solution that would allow to obtain further energy efficiency on top of the interventions already carried out on its Italian plants in Latina, and then evaluate its application in the Group's remaining production sites in Europe.
In December 2017 was installed the first E-Power 1,000 A at the CSI Findus plant in Cisterna di Latina, dedicated to the preparation and freezing of vegetables and other food products.
The configuration of the electrical loads powered by the mid voltage transformer consists mainly of machinery under inverter and electronic lighting, for a used power of about 500 kW:
• Inverter Machinery: 95%
• LED lighting: 5%
Following this pilot project, between 2019 and 2020 7 more E-Power devices were installed in the remaining cabins of the Cisterna di Latina plant, with sizes ranging between 1,250 A and 1,800 A.