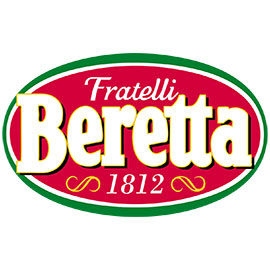 * Conversion factor: 0,400
Company: Beretta – Italy
The Beretta Group is one of the most important and representative realities of the Italian food industry, leader in the production of hams and salami. Founded in 1812 in Barzanò as a meat processing shop, today it is present in more than 20 countries around the world and it owns 22 plants in Italy and abroad.
Most of the plants are located in the typical certified production areas, while the factories abroad directly produce the cured meats for the local market.
The Beretta group employs a total of over 1,300 employees and a production of 110,000 tons of cold cuts.
As part of a large project aimed at achieving energy efficiency on all its production sites, the Beretta Group was looking for an effective solution of simple application within its plants that would also allow to obtain the energy efficiency titles (TEE) from the GSE, the Italian Energy Agency.
In July 2016, the first 800 A E-Power device was installed at the Annibale Goldoni hams seasoning site in Langhirano, belonging to CIM Alimentari, a company of the Beretta Group. The site in question is dedicated to the seasoning of raw hams of the highest quality,
in which the configuration of the electrical loads powered by the medium voltage transformer are mainly compressors for food refrigeration and air conditioning, for a used power of about 470 kW:
• Heating, Ventilation and Air Conditioning: 60%
• Machinery with and without inverter: 37%
• Lighting: 3%
The following year, 2 more E-Power devices of 1,000 A and 1,400 A were installed at the contiguous sites of Langhirano dedicated to the seasoning and packaging of hams, in which the electrical loads managed absorb a power of about 520 kW and 850 kW respectively. In 2020, the Beretta Group decided to complete the efficiency project on its plants by installing 9 other E-Power devices at the main production sites of Trezzo D'Adda, Garbagnate Monastero, Carpegna and Framon, with sizes ranging from 800 A to 2,500 A.